Last night was the beery event of the year, especially if you like writing (or reading) about it, the annual awards dinner for the British Guild of Beer Writers #BGBW. For the third year running I helped choose the beers to pair with the stunning four course meal at the Jumeirah Carlton Tower alongside Tim Hampson and Sophie Atherton. Even if I do say so myself, it was the best yet. Working with Executive Chef Simon young over the past three years has been a joy, his inventive menus are great fun to pair beer with and he is always so accommodating if we have any ideas or changes to bring to the table.
A lot of prior planning goes in to the dinner each year and several meetings and tastings happen throughout the summer and autumn months, all organised by the lovely, very hard working, Fiona our events coordinator. Beer and food matching a menu for 220 people is no small feat, and there are several, self-imposed, rules.
The first rule of #BGBW is that we don't use sponsors beers
The second rule of #BGBW is that we don't use beers associated with ourselves or Guild committee members
The third rule of #BGBW is that don't repeat breweries too frequently.
So where to start… with the beer or the food? The first year I was involved, we took Simon's menu and went away to find beers we thought would work. Last year we came up with some beers we really wanted and asked Simon to put dishes together to pair with those beers. This year was far more organic.
Firstly, Tim was really keen to have a canned beer to reflect the innovation in the burgeoning British beer scene. The novelty of everybody sitting down to a swanky dinner with a beautiful, brightly coloured can of beer in front of them worked a treat. At one of our earlier meetings we brought a selection of cans along and sat in the lobby of the hotel, listening to a harpist, whilst drinking them with Simon. We brainstormed flavours that would work with each beer until the chef came up with a dish we all agreed should work with one. A few weeks later we went back for a menu tasting, just to make sure!
Fourpure Session IPA has beautiful tropical fruit flavours which carried the lime leaf and lemongrass in Simon's Thai fusion risotto, followed by citrus notes to lift the seafood and a balanced bitterness to lighten the rich risotto and bisque.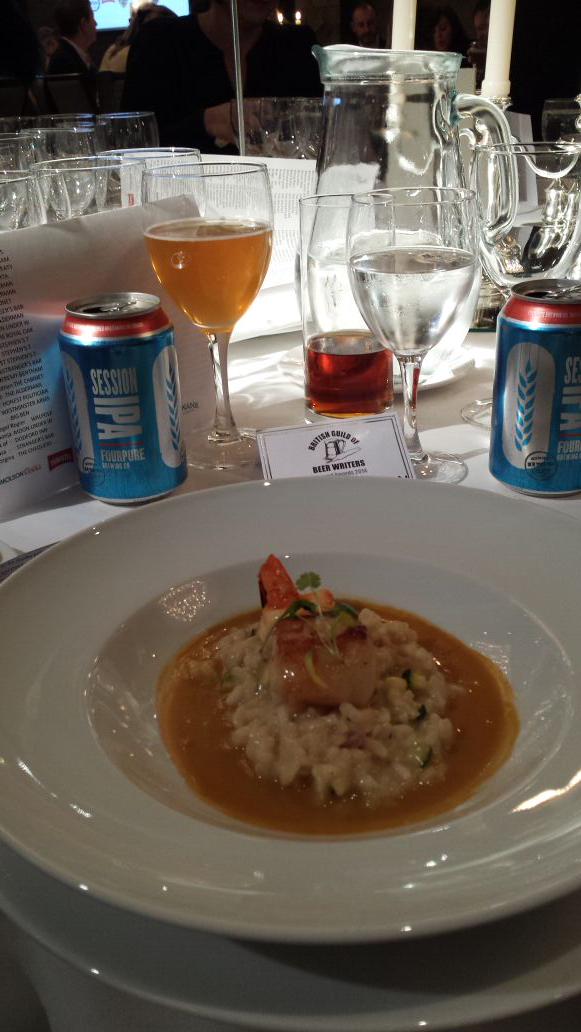 We also take care to consider an alternative dish, this year a salad of whipped goats cheese, pomegranate, rocket and roasted cauliflower paired brilliantly with Fourpures crisp, clean Pils.
For the main course Simon came up with two dishes that he loved, an exceptionally posh roast chicken with a delightful cauliflower cheese beignet or roast breast of guinea fowl, wild mushroom and celeriac Wellington, buttered spinach and red wine jus. At the tasting we had each brought a couple of beers we thought might work with one or both of the dishes, we eat, drank, sipped, tasted, deliberated, cogitated and digested. We also had the vegetarian vegetable tempura served with fried rice and sweet and sour sauce dish to consider…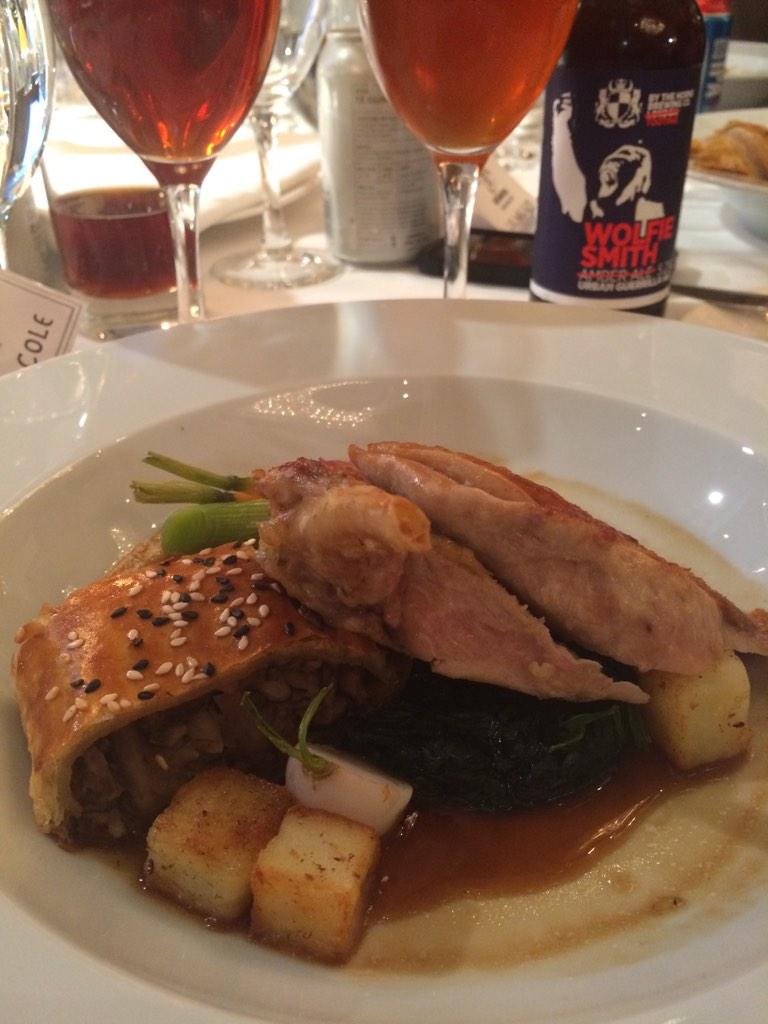 Wolfie Smith, a beer from exciting upstart brewery By the Horns made it's way to the table. It's pithy bitterness lifting the crispy skin and bacon wrapped vegetables, the earthy malt backbone marrying the mushroom wellington and then the sweet malt and grassy hops leapt all over the sweet chilli and tempura vegetables, we had ourselves an all rounder.
At a beer dinner at The Bull in Highgate earlier in the year, myself and Tim had a pairing so perfect for pudding we were desperate for Simon to re-create the combination. The pairing had been put together for an Okell's dinner by the talented Jo Miller and my head David Hook. the Aile smoked porter with chocolate lollipops and raspberry dipping coulis.
Simon brought us three different takes on those flavours to the tasting and we dutifully tried them all and the result, our decision, was possibly the pairing of the night. Aile is a smoked porter, not heavy and only 4.7%, the peated malt works some kind of magic with raspberry and the deep dark chocolate notes of this clever little beer are a perfect bedfellow for dark chocolate, add in a bit of spritz and the cloying sticky sweet caramel gently disappears ready for the next great gobful. Pure perfection indeed.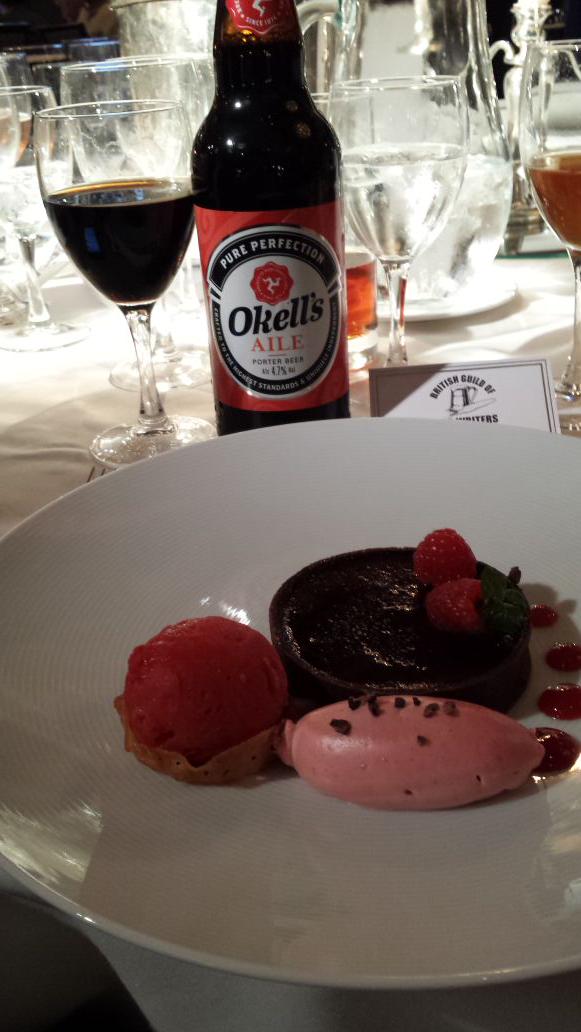 In previous years the meal has finished with petit fours, it has been sad to see the beautiful tiny morsels go to waste. Sophie was keen to get cheese to the table and as Simon talked passionately about small Sussex dairy Alsop and Walker, who produce a great range of cheese all from the same farm, we decided it was time to ring the changes. Deciding the logistics of pairing three different cheeses with three different beers was perhaps a step too far for an event of this size we set about finding one beer, one beer to pair them all. To my surprise the weighty golden barley wine, Headcracker, from Woodforde's in Norfolk fitted the bill a treat.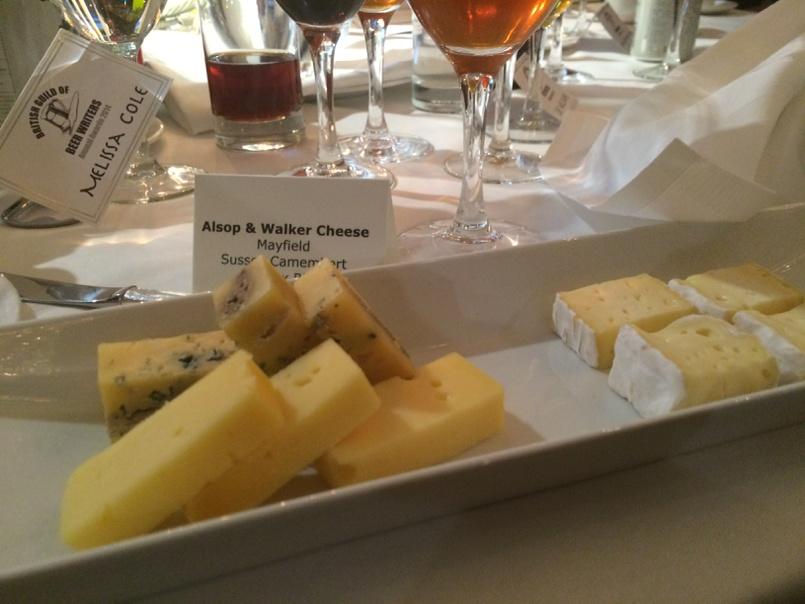 For those who attended the dinner, I hope you enjoyed yourselves, many thanks to the breweries whose beer we enjoyed, and huge congratulations to all of the winners, especially Brewer of the Year, Mark Tranter from Burning Sky and Beer Writer(s) of the Year Boak & Bailey.
Cheers, or as they say at Okell's sláinte.